Handling Anaphylaxis
posted: Dec. 03, 2019.
Millions of Americans are affected by allergies. From children to seniors, our allergist sees patients of all ages who are dealing with everything from food allergies to seasonal allergies. While minor or seasonal allergies can often be addressed through simple lifestyle changes and over-the-counter medications such as antihistamines, if you are dealing with severe allergies then you'll want to turn to an allergist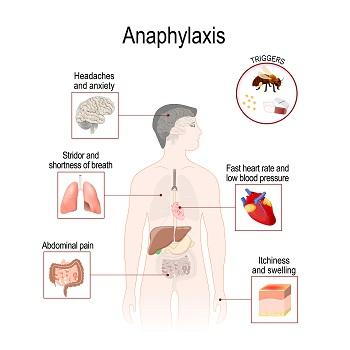 immediately.
What is anaphylaxis?
Anaphylaxis is a rare but severe and potential life-threatening allergic reaction that requires immediate medical attention. It's important that if you or someone you know experiences anaphylaxis when coming into contact with a known allergen that you know how to best respond.
Anaphylaxis occurs when the overstimulation of chemicals within the body in response to the allergy causes the body to go into shock. The allergies most often associated with anaphylaxis include:
Medications
Foods
Latex
Insect stings
What are the signs of anaphylaxis?
Symptoms of anaphylaxis appear suddenly and worsen quickly. It may start out as a minor rash or runny nose but will progress into any of these symptoms:
Vomiting
Difficulty breathing
Hives
Tightness in the throat
Diarrhea
Abdominal pain
Low blood pressure
Dizziness
Fainting
Rapid heart rate
Anaphylaxis will not go away on by itself. It requires urgent medical treatment. Call 911 or go to your nearest emergency room if you or a family member experiences symptoms of anaphylaxis.
How is anaphylaxis treated?
During your first evaluation, an allergist will go through your medical history and ask you questions about your allergy symptoms. From there, diagnostic tests will be performed to test which allergies might be triggering your symptoms. Depending on the severity and type of symptoms you experience, your allergist will provide you with medications and everyday habits to adopt that will help you avoid dangerous triggers.
Of course, if you are dealing with anaphylaxis, an allergist will handle your symptoms a bit differently than patients with mild to moderate allergic reactions. An allergist will most often prescribe an epinephrine injector (referred to as an EpiPen). When anaphylaxis occurs, the patient will immediately inject the shot of epinephrine (adrenaline) into their leg to stop the reaction. From there, the patient should head immediately to the hospital for follow-up treatment and care.
Those who experience anaphylaxis should wear some sort of allergy identification on their person, so that if a severe allergic reaction does occur the people around you will be aware of your allergy symptoms and can ensure that you get immediate medical attention.
If you or a loved one is dealing with new or worsening allergy symptoms it's important that you have an allergy specialist that you can turn to for proper evaluation and treatment. Call an allergist today.
Tags: Anaphylaxis